In this guide, we'll import YouTube Analytics data into Airtable. We'll use the Data Fetcher Airtable extension to automatically pull in YouTube Analytics metrics such as views, likes & subscribers gained.
This tutorial uses Data Fetcher's YouTube Airtable integration to import YouTube Analytics data for a YouTube channel you have access to. If you want to import public data about other YouTube channels, check out our other tutoriall.
Install Data Fetcher
Install Data Fetcher from the Airtable marketplace. After the extension launches, sign up for a free Data Fetcher account by entering a password and clicking 'Sign up for free'.
Import YouTube Analytics Data to Airtable
On the home screen of the Data Fetcher extension, click 'Create your first request'. Requests in Data Fetcher are how you import data to or send data from your Airtable base.
On the create request screen in Data Fetcher, for Application, select 'YouTube Analytics' to use the YouTube Airtable integration.
Click 'New YouTube Analytics Connection'. You will be taken to a new tab/window where you need to authorize Data Fetcher to access your YouTube account. Select the Google account you use for YouTube. On the next screen, select the YouTube account or a brand account you want to import YouTube Analytics data for. On the next screen, click 'Allow'.
You should be back in the Data Fetcher with the YouTube Analytics connection set up.
Enter a Name for your request, e.g. 'Import YouTube Metrics'. Then click 'Save & Continue'.
Select the Date range you want to import data for, e.g. 'Last week'. There is a delay of up to 72 hours for YouTube Analytics data due to a limitation of the YouTube API.
Select the Fields you want to import from YouTube Analytics, e.g. 'Views', 'Likes' & 'Subscribers gained'.
Select a value for Split by to split the data into different records. e.g. select 'Day' to get a different record for each day. If using "Video", only the top 200 videos are available.
Select the Output Table & View you want to import YouTube Analytics data into.
Click 'Save & Run'.
The request will run and the Response field mapping modal will open. This is where you set how the fields from YouTube Analytics should map to fields in the output table. For each YouTube Analytics field, you can either import or filter it. For an imported field, you can set whether to map them to an existing field or create a new field. Once you are happy, click 'Save & Run'.
Data Fetcher will create any fields that need to be created in the output table, then run the request and import the data from YouTube Analytics to Airtable. If you want to run the YouTube Airtable integration again, simply click 'Run'. If nothing has changed, you will not need to set up the response field mapping again.
Automatic YouTube Airtable Integration
At the moment, we have to manually run the request to import the metrics from YouTube Analytics. We can use Data Fetcher's scheduled requests feature to automatically import the metrics every week.
In Data Fetcher, scroll to Schedule and click 'Upgrade'.
A new tab will open where you can select a plan and enter your payment details to upgrade.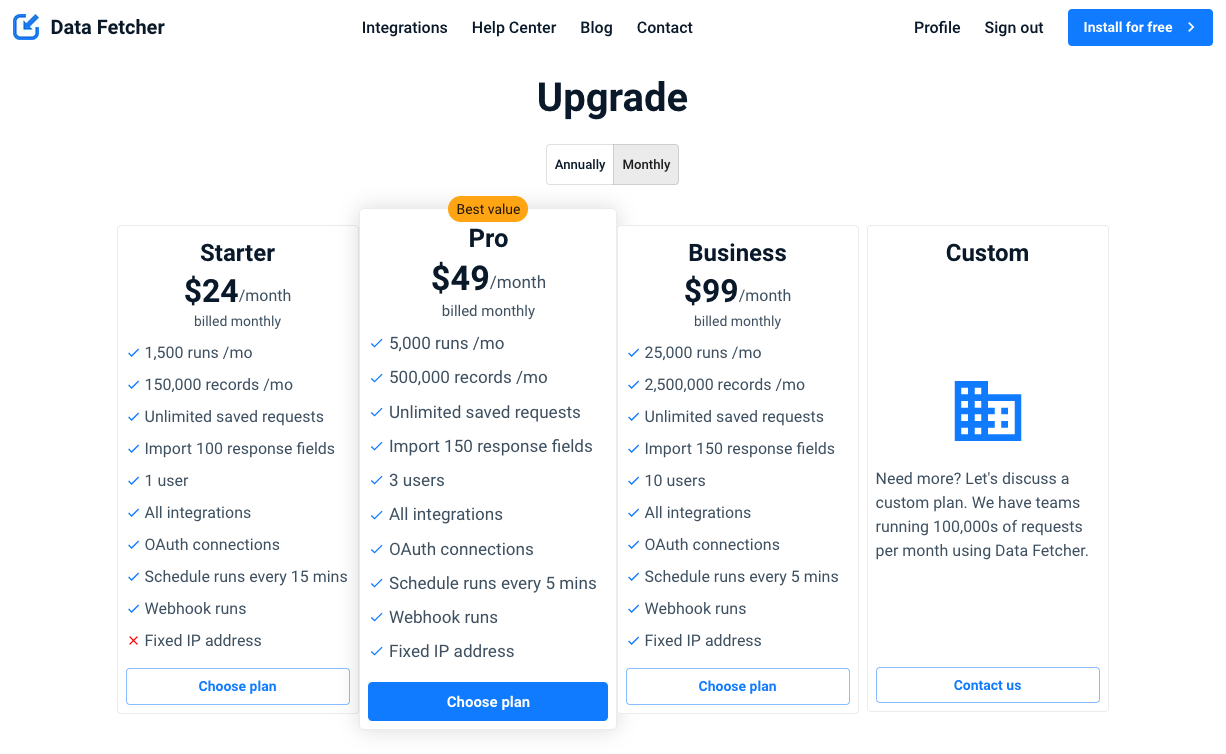 Return to the Data Fetcher extension and click 'I've done this'.
Under Schedule click '+ Authorize'.

A new window will open which prompts you to authorize the Airtable bases you want Data Fetcher to have access to.
We recommended choosing 'All current and future bases in all current and future workspaces' for this option which saves having to unauthorize bases in the future.
Click 'Grant access'.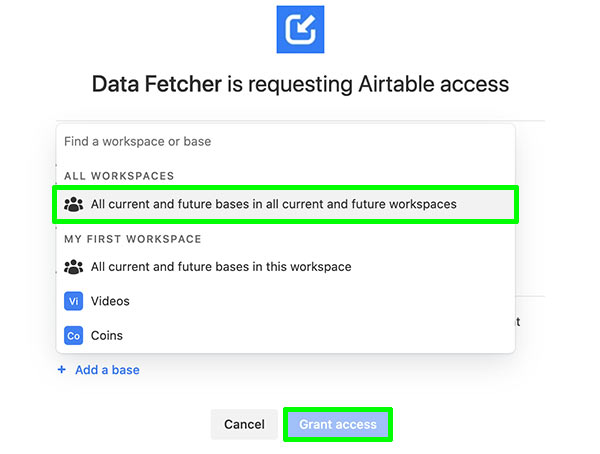 Back in Data Fetcher, you'll see Schedule this request is now toggled on.
Select how often you want the YouTube Airtable integration to run. The request will now run automatically and import YouTube Analytics data for the previous week.