It's easy to import data from Google Sheets into Airtable. All you'll need is the free Data Fetcher Airtable extension and to follow this step-by-step guide. Data Fetcher enables a connection to be established between Google Sheets and Airtable in order to transfer data back and forth. Data Fetcher can also be used with a huge variety of other different applications, including Google Analytics, Google Ads and Google Maps.
Install Data Fetcher
Install Data Fetcher from the Airtable app marketplace. Sign up for a Data Fetcher account by entering your name, email address and password and clicking 'Sign up for free'. Alternatively, sign up using your Google account.
If you already have a Data Fetcher account, then sign in using the link at the bottom left of the screen.
Import Google Sheets Data into Airtable
Requests in Data Fetcher enable you to import data to or send data from an Airtable base. On the home screen of the Data Fetcher app, click 'Create your first request'.
Next, for Application, select 'Google Sheets'.

Under Authorization, select '+New Google Sheets Connection'.

You'll be prompted to sign into the Google Account where your Google Sheets data is.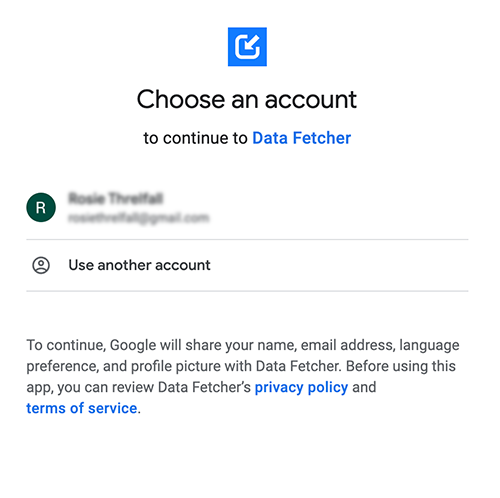 Next, check the two boxes to authorize Data Fetcher access to your Google account and click 'Continue'.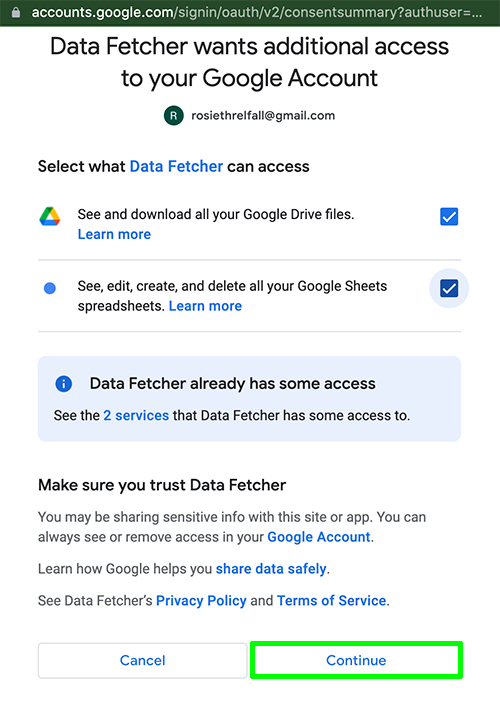 Give the request a name such as 'Import Google Sheets Data' and click 'Save & Continue'.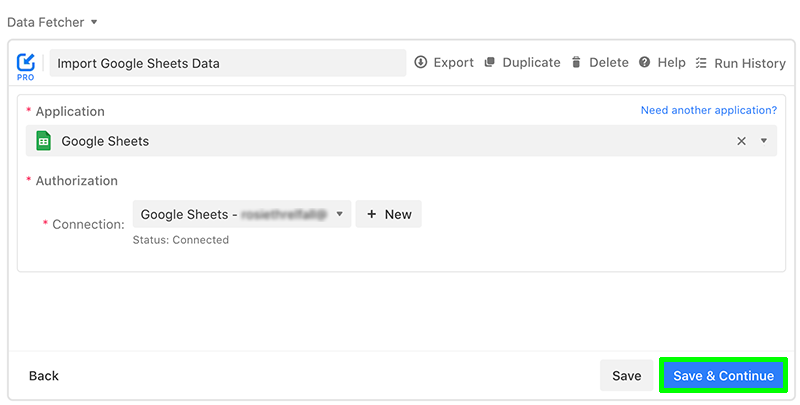 On the next screen select the Google Sheets Spreadsheet you want to import data from.

And the Sheet you want to import data from.

For Major Dimension select whether your data is stored as rows or columns in your spreadsheet (rows is pre-selected by default.)

First row in Sheet is field names is set as true as default, but you can toggle this off if required.

This means that the field names will be taken from the first row in the spreadsheet.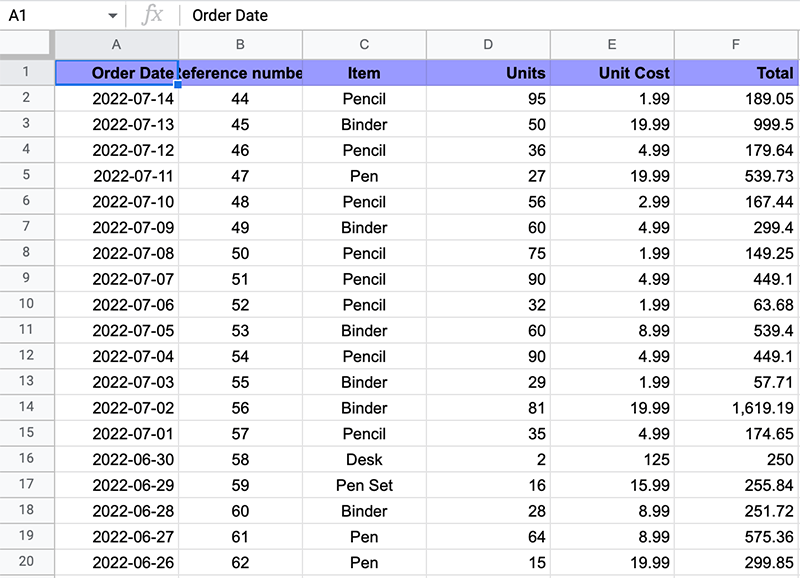 Or if no field names have been specified, then toggle this option off to set them yourself when the spreadsheet data imports.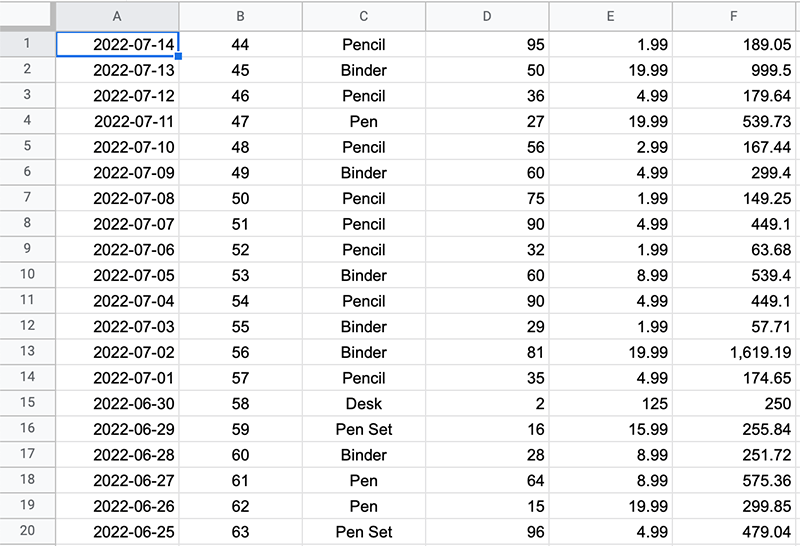 Make sure Output Table & View are set to the Airtable table you want to import Sheets data into and click 'Save & Run.'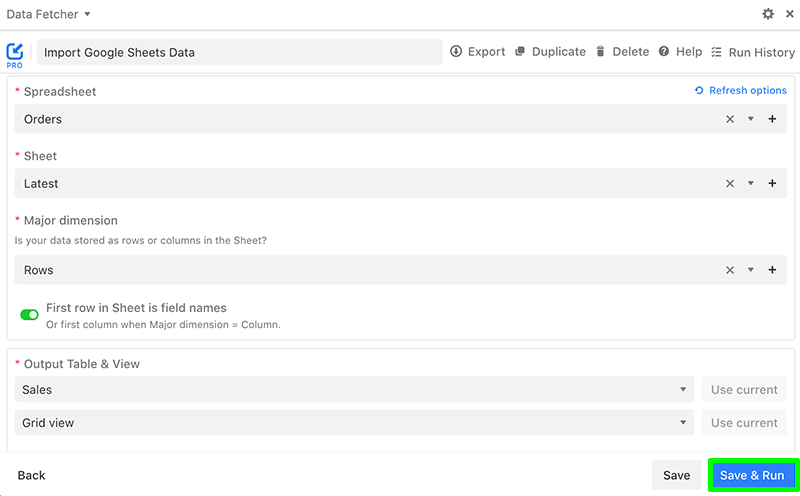 Data Fetcher will now connect to Google Sheets and the Response field mapping modal will open. This is where you can specify which fields to import from Google Sheets and how they will map to your output table. 
For each field, you can either import or filter it out, and you can either map data to a new field or to an existing field. For this example, we'll import all the fields from the Google spreadsheet, which will all be pre-selected and mapped to new fields. 
Here you can also set the 'type' of the Airtable fields, so for this example, we'll set both the 'Unit Cost' and the 'Total' fields to 'Currency'.
Click 'Save & Run'.
You'll now see all of your Google Sheets data in your Airtable Spreadsheet. New fields will have been created to match the name of your columns in Google Sheets.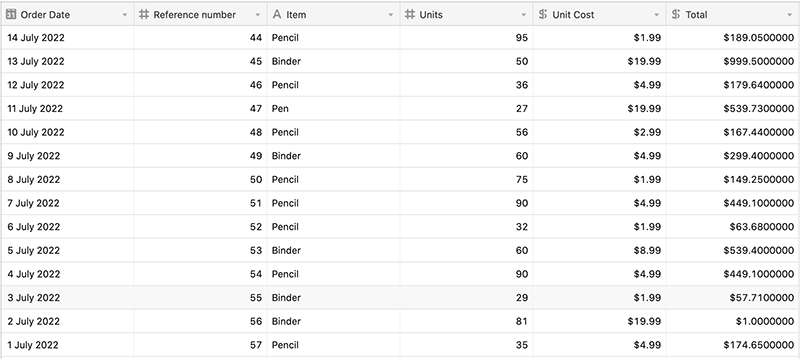 In order to ensure Data Fetcher is able to check all data is syncing correctly with Google Sheets, navigate to 'Advanced settings' in Data Fetcher. Open the advanced output settings, and for Update Based on Field, select 'Reference number'. This needs to be a unique field such as an Id, Order number of Reference number to keep our Airtable records in sync with the rows in our Google Sheet.
Click 'Save'.

Schedule Google Sheets Data to import into Airtable Automatically
Currently, you'd need to manually click 'Run' in Data Fetcher to import any updates to your Google Sheets Data, but it is possible to run the request automatically at regular intervals, so Data Fetcher will periodically import any changes from your Google Sheet. 
This is a paid Data Fetcher feature, so if you haven't already, you will need to upgrade your account. In Data Fetcher, scroll to Schedule and click 'Upgrade'.

Choose a plan from the different options depending on your needs and enter your payment details.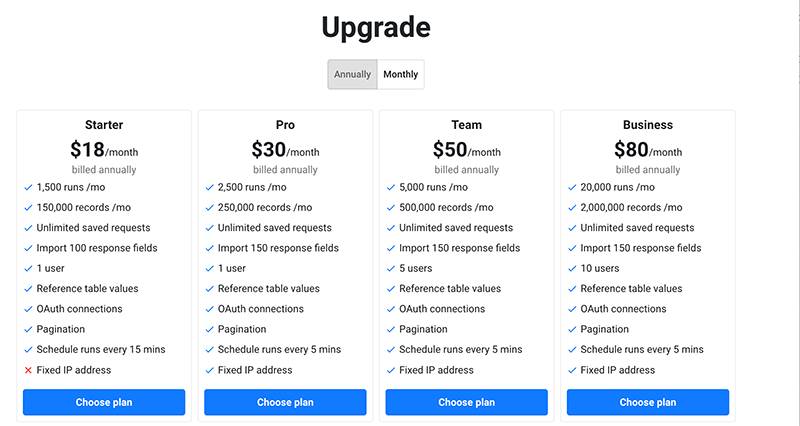 Back in Data Fetcher, click 'I've done this'.

Click 'Add API key' and copy and paste your Airtable API key. You can find your Airtable API key here.
Enter your Airtable API key and click 'Save'.
Toggle Schedule this request to on.
Select a schedule based on intervals of 'Minutes', 'Hours', 'Days' or 'Months'. Click 'Save', and any new data from your Google sheet will automatically import into your Airtable base on your chosen schedule.