In this guide, we'll import data from Facebook and/or Instagram Ads into Airtable. Facebook and Instagram Ads are a combined service that can be used across both platforms and can be imported into Airtable in the same way. We'll use the Data Fetcher Airtable app to automatically pull in Facebook & Instagram Ads metrics such as impressions, clicks & CPC.
Install Data Fetcher
Install Data Fetcher from the Airtable app marketplace. After the app launches, sign up for a free Data Fetcher account by entering a password and clicking 'Sign up for free'.
Import Facebook and Instagram Ads Data to Airtable
On the home screen of the Data Fetcher app, click 'Create your first request'. By creating requests in Data Fetcher you are able to send data to or and from your Airtable base.
On the create request screen in Data Fetcher, for Application, select 'Facebook Ads'. (Whether you want to import Facebook Ads, Instagram Ads, or both.)

Click 'New Facebook Ads Connection'. You will be taken to a new tab/window where you need to authorize Data Fetcher to access your Facebook account. Select the Facebook account you want to import Facebook & Instagram Ads data from.
You should be back in the Data Fetcher with the Facebook Ads connection set up. Enter a Name for your request, e.g. 'Import FB Ads Metrics'. Then click 'Save & Continue'.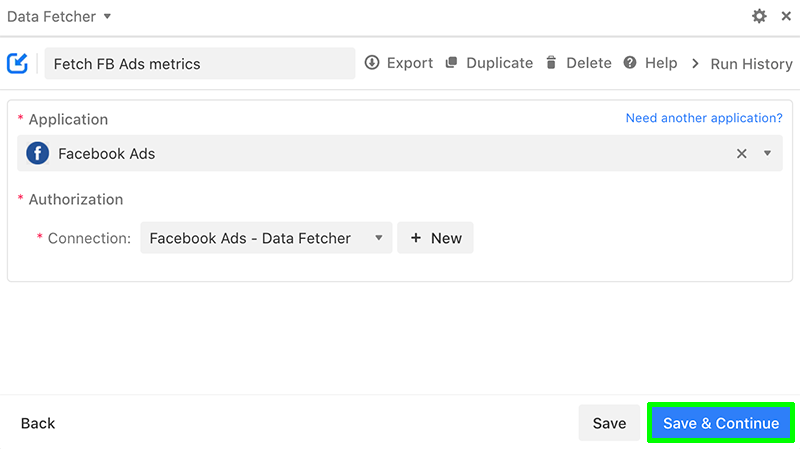 Select the Facebook Ads Account you want to import data for.

Select the Date range you want to import data for, e.g. 'Last week'.

Select the Fields you want to import from Facebook Ads, e.g. 'Impressions', 'Clicks' & 'CPC'.

If you want to, you can also select a value for Split by to split the data into different records. E.g. select 'Date' to get a different record for each date. This step is optional. If you don't set it, you'll get one record with aggregate totals for the selected date range.

If you want to you also can use filters to only import data from Facebook & Instagram Ads that meet certain conditions. Under Filters, click 'Add Filter', then select the conditions you want to filter by. E.g. to only import only days when ads had more than 1000 impressions.

Select the Output Table & View you want to import Facebook Ads data into.

Click 'Save & Run'.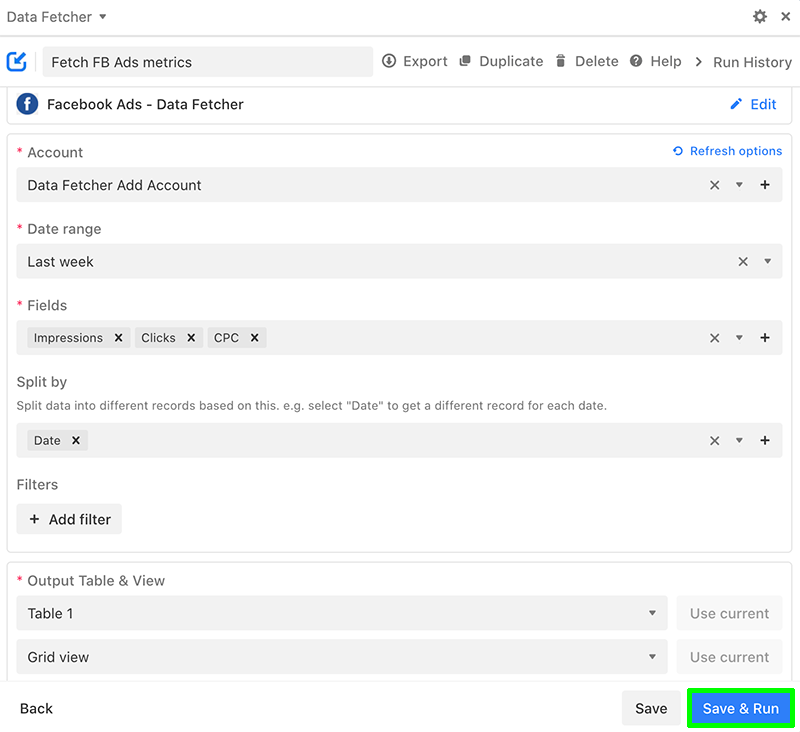 The request will run and the Response field mapping popup will open. This is where you set which fields from Facebook & Instagram Ads should map to fields in the output table. For each Facebook Ads field, you can either import or filter it. For an imported field, you can set whether to map them to an existing field or create a new field. Once you are happy with the mapping, click 'Save & Run'.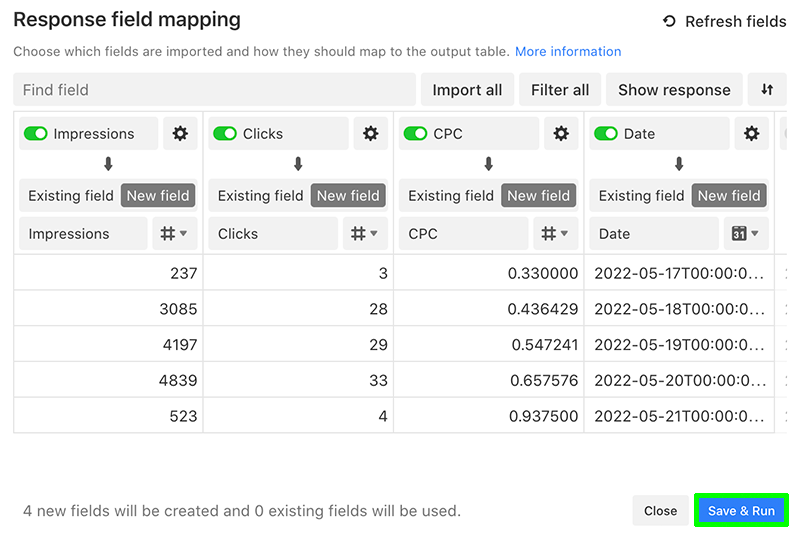 Data Fetcher will create any fields that need to be created in the output table, then run the request and import the data from Facebook Ads to Airtable. If you want to run the request again, simply click 'Run'. If nothing has changed, you will not need to set up the response field mapping again.

Import Facebook & Instagram Ads Data Automatically
At the moment, we have to manually run the request to import the metrics from Facebook Ads. We can use Data Fetcher's scheduled requests feature to automatically import them every 15 minutes/ hour/ day etc.
In Data Fetcher, scroll to Schedule and click 'Upgrade'.
A new tab will open where you can select a plan and enter your payment details to upgrade.
Return to the Data Fetcher app and click 'I've done this'.
Click 'Add API key' in order to add your Airtable API key. You can find your Airtable API key here.
Enter your Airtable API key and click 'Save'.
Enable Schedule this request.
Select how often you want the request to run, e.g. 'Every Day'. Click 'Save', and the request will now run on your set schedule and pull in Facebook & Instagram Ads data automatically.